P r o d u c t I n f o r m a t i o n

The R2118 standard back offers, low cost, utility seating for vehicle conversions where the legal requirement for lap and diagonal seat belts does not apply. A range of seat widths, leg heights  and accessories is available.
More
photos





Product
PDF flyer
Lap belts compliant to Community Directive 76/115/EEC (as amended)

Vehicle category:

Nr of seats:

Maximum weight:

Example:

8 + 1(driver)

-

Private
motor car

NO

More than 8

Not exceeding 5 tons

Minibus

YES

More than 8

Exceeding 5 tons

Coach

YES

Features

Accessories

• Available with retractor or static lap-belts
• Available as 400, 425 and 450mm singles only
• Variable leg heights and centres
• Static or retractor lap belts can be fitted to
inbuilt anchorage points.
Lap belt anchorage points comply
with76/115/EEC (as amended) for category M2
and M3 vehicles.
NB: Lap/diagonal belts are NOT available on
this product (see Defender range)

• Armrests
• Headrests
• Quick-release fittings

Trim
To match original material in most vehicles.
Vinyls and moquettes also available.
Trim design service
Our Trim Development team can produce unique designs to order. A huge selection of woven cloths, moquettes, vinyls and leathers is available to choose from. Specialist stitching, panel shaping and upholstery effects can be incorporated into your design.
Please contact the office sales team , or speak to your Area Sales
Dimensions
(for guidance only)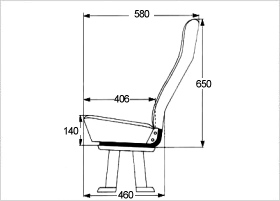 Notes
1 Caution: It is not possible to test every permutation of seat width, accessory combination, leg height, position and type, or seat belt requirement. For this reason, it must be emphasised that compliance cannot be assumed where there is any deviation from the standard supply or assembly method. Additionally, the advantages of this product may be lost if insufficient consideration is given to the method of installation of the seat in the vehicle.
2 FULL compliance to seat belt anchorage regulations can only be achieved through vehicle testing.
3 Product improvement may affect specifications.